The world's most effective, and successful nutrition, & lifestyle coaching program.
We're here to help you build quality of life.
This is no easy task.
So, we have teamed up with the best.
The Precision Nutrition Coaching platform delivers a one year curriculum that systematically progresses through on the most important aspects of living a healthy, fulfilling life.
This includes:
☑︎ Eating better
☑︎ Exercising more intelligently
☑︎ Managing stress
☑︎ Sleeping and recovering better
☑︎ Taking better care of yourself
☑︎ Having fun, and enjoying the process all along
To date, it has been tested with more than 75,000 people, who have transformed their bodies and health profiles in amazing ways.
The package includes:
A structured year-long nutrition and health program to help you learn, and keep you consistent.

Strategic daily health practices that fit into your lifestyle.

Expertly-designed movement program, customised to your skill level, goals, and time available.

My guidance. I'll be with you every step of the way to support, to help make adjustments to your program, and help keep you accountable.
EAT BETTER
Build practices around the ins and outs of simple, yet effective nutrition
MOVE FREELY
Acquire knowledge through experience and learned consistency.
BUILD QUALITY OF LIFE
Live with the freedom and joy to do as you please.
This program is proven, tested, and guaranteed to change your life.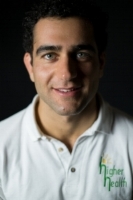 Your Coach
I was always the chubby kid at school. I battled with diets and fads for a very long time. Some worked for a little. But all of them brought me back to where I began.
Then I found Precision Nutrition. I realised the importance of habits, I built skills, and I learned how to live and be healthy for life.
Now, as Sydney's first Level 2 Precision Nutrition coach, I'm beyond excited to guide you along your own journey to health.
We're kicking off soon! Want in?
Enter your details below for a follow up chat.
HERE'S MY #1 TIP TO EAT BETTER
You're busy. There's so much to do.
So if there's one thing you can take away from your visit to our page today, it's this one. Sign up below and I'll have it to your inbox in no time.